Common Meeting Room 1, 2
For meetings, gatherings and workshops designed to further international exchange and cooperation within the city, we are able to provide the use of two common meeting rooms.
*Common Meeting Room 1 (85 sq m, capacity approximately 40 people)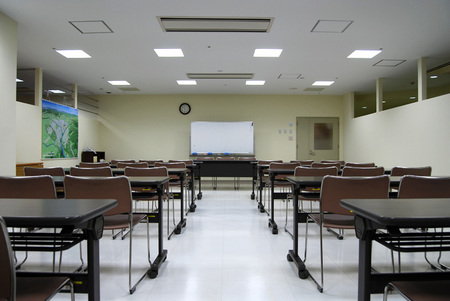 *Common Meeting Room 2 (65 sq m, capacity approximately 30 people)
Terms of Use for Common Meeting Rooms 1,2
1. Time of Use
8:45AM to 9:00PM
2. Holidays
Building Facility Holidays, New Year's Holiday (Dec. 30th to Jan. 4th)
3. Fee for Use
Use of Facility:
Use of Equipment: Free (However, items are limited to what is currently available.)
4. Application for Use
(1) Events Appropriate for Use
Meetings, workshops and other events held by groups from Asahikawa and its surrounding areas.
(2) How to Apply
Using the dedicated form "Application to Use Common Meeting Rooms 1, 2," please apply to the Asahikawa International Affairs Division.
(3) Date of Opening of Applications
No particular date.
(4) Continuous Use
The rooms can be reserved for up to 7 days for the same event.
5. Events Unsuitable for Use
*Events intended for commercial purposes.
*Events resembling religious or political activities.
*Events that disturb public order or are of an antisocial nature.
*Events that cause a disturbance to the surrounding area through loud noises, bad odors or stains.