Message Board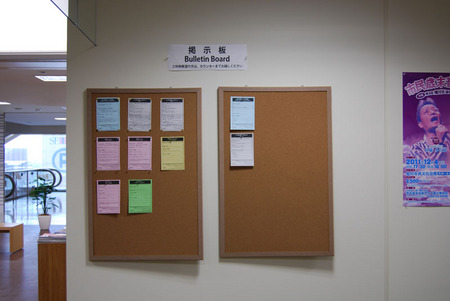 Offers citizens and foreigners the opportunity to easily exchange information and engage in various activities by placing their message cards on the notice board.
Using the Message Board
・Posting on the Message Board may done by using the allocated Notice Slips from the Information Counter. Putting up of personally prepared postings, or any kind of post other than the allocated Notice Slip, is prohibited. If you wish to post on the Message Board please inquire first at the Information Counter.
・Once the content of the post has been verified and approved, and the date stamped, you may post your notice on the Message Board. You may post the slip yourself but please make sure that it doesn't cover or hide any other postings.
・As a general rule, posting is limited to one Notice Slip per message (more than one Notice Slips can be posted if the content is different).
Once the period of a posted message has expired the Notice Slip will be kept at the Information Counter. If you wish to repost your notice or extend the posting period, please notify the Information Counter.
・The period a notice stays posted on the Message Board is, generally, a month.
(eg. If a notice has been posted on April 1st, it would be taken down on May 1st.) In case the Message Board becomes fully filled, the oldest posts will be taken down first.
Notice Classifications
<Blue> Looking for language teachers/instructors, and information on language courses.
<Pink> Offering paid language lessons (these notices are limited to persons with a valid working visa).
<Green> Offering free language lessons.
<Yellow> Looking for employment (these notices are limited to persons with a valid working visa).
<White> Other (looking for language partners, garage sales, looking for group participants, party notices, or other looking for/wanted notices).
*With regards to paid lesson, garage sales, and other notices where the exchange of money is required; matters that may arise from any of these transactions (refunds, exchange of goods, etc,) are the responsibility of individuals involved. The Asahikawa International Center is not responsible for any negative consequences/disputes that may arise from any of the posted notices.
Other
If you have any questions or are uncertain about any of the terms and conditions regarding the use of the Message Board, please contact the center.
Contact
Asahikawa International Center
Tel:0166-25-7491 Fax:0166-23-4924
or Email:Here